Wiki Creator's Roblox Name: Redeadtakedown,Fozzax80 Game Creator's Roblox Name: Kaeto
Version: 4
Latest Update:
Welcome to the Wiki
Welcome to Hunter's Life Version 4 Wiki we have put this together for the game everyone can learn the information needed for the game that isn't displayed in the game as of yet. Also find out the best ways to get weapons and make a lot of money and the best place to hunt down the best monsters.
Idea Of The Week
Ogre Boss has 1750 health and takes only 65% of damage dealt to it
Featured Fan Art
Made By Kaeto !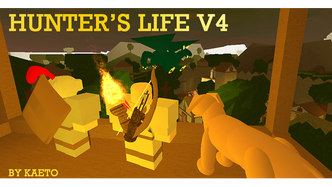 Saving in the game
This is what a few people worry about when playing so we will tell you now. The game does save if you leave there is nothing you have to type in chat to save the game uses an automatic game saving function. However the best way is to save the game is not by pressing the "X" Button at the top right of the screen which is the windows default of leaving the game. We suggest that you leave by Pressing the "Esc" Button at the top left of your keyboard which should open a menu on your monitor saying "Leave Game" at the bottom of the menu press it and it will ask you to confirm if you want to leave the game or not.
Latest activity
Photos and videos are a great way to add visuals to your wiki. Find videos about your topic by exploring Wikia's Video Library.
Community content is available under
CC-BY-SA
unless otherwise noted.